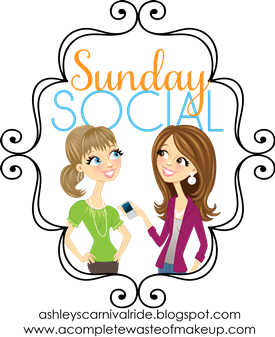 1. What is your favorite Social Media outlet? ----- I'd have to say Facebook, since that's really the only one I use with any regularity. I use Pinterest too, but a lot less frequently now than I used to. I also use Instagram, but I don't post pictures, really, so much as I look at everyone else's. And I'm on Twitter, too, but I find it to be a ridiculously confusing and complicated interface that I have neither the time nor the inclination to really learn right now, so I mostly just ignore my Twitter.
2. Do you subscribe to any daily news reads? ----- Nope. I have Google News as my homepage, though, so I see headlines a lot, and I will check out cnn.com or nbc.com a lot, to see what they know.
3. Favorite magazine to have by the pool? ----- Cosmopolitan is still a guilty pleasure of mine, for no reason that I can actually articulate. I also enjoy reading HGTV magazine, and used to swipe my sister's copies when we still lived together. *sniff....I miss living with that little rascal...sniff*
4. Favorite summertime song? ----- Jake Owens' "Barefoot Blue Jean Night". Also, Keith Urban's "Where the Blacktop Ends", since that song always reminds me of running around barefoot "where the grass and the dirt and the gravel all meet", which is pretty much what I did all day, every day in the summer, since I grew up in the country.
5. Best summer concert you've been to? ----- I have really only been to one, so I guess that wins by default.... I went to a Rascal Flatts concert with my then-bf JD back in 2006. It was an outdoor concert, and The Wreckers and Gary Allan opened. We sat on a blanket on the amphitheater part of the arena, and had a blast. The only rotten part was that I had torn a tendon in my knee the week before, so I was on crutches and in a straight-leg brace, which made climbing the hill a lot more complicated and difficult than it should have been.