I am linking up with Neely at A Complete Waste of Makeup today for Sunday Social!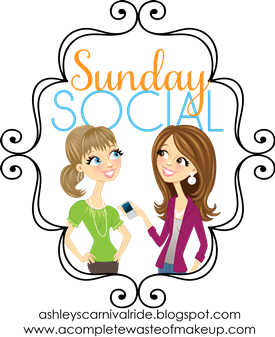 What is the best trip you've ever been on?
-
I went on a two month missions trip to the Philippines the summer after my sophomore years in high school, and that wins best trip, hands down. There were difficulties (huge insects, a general lack of decent plumbing, humidity), but the experience was incredible, and something that was absolutely worth every single hardship.
What is your best idea for a girl's trip?
-
I think a beach trip would be awesome! Sand, sun, and drinks…how could you go wrong?!
What is your best idea for a couple's trip?
-
A trip that combines a beach with awesome, surfable waves with a vineyard or winery! That way, we can enjoy the fun of a beach trip during the day, and then indulge in some delicious wine in the evening. Boyfriend and I both really enjoy water activities, and win, so a trip like this would be an absolute win-win for us!
What is the best vacation on the cheap?
-
Well this will always vary based on where and when you're going. I would always suggest going somewhere during the off-season, though, to save on airfare and lodging. You may also be able to find some awesome trip deals on sites like Groupon or Living Social.
What is the place you most want to visit?
-
I want to tour Europe!! I want to see all the major places – London, Amsterdam, Paris, Rome. I want to lay on a white sand beach in Greece, and tour the countryside of Eastern Europe. I want to put a lock on one of the bridges in Paris. Mostly I just want to be everywhere in Europe!!!
Tune in next week, when I answer these questions:
1. What is your all-time favorite song?
2. Who is your favorite singer/band?
3. What song reminds you of your childhood?
4. What songs put you in a good mood?
5. What is your music to rock out to in your car?
6. What is the most embarrassing album or song you own?